Besøgsmark
Et vindue til Lammefjorden – og en flagskibslokalitet i Geopark Odsherred
UNESCO Global Geopark Odsherred har i samarbejde med lokale landmænd og agronomer åbnet en besøgsmark på Lammefjorden. Marken ligger på hjørnet imellem Adelers Allé og Rådhusvej ved rundkørslen og grænser op til Rådhusvej 75 i Fårevejle Stationsby.
På marken kan du i sommerhalvåret møde en vært, se (og efter aftale smage) en række af de grøntsager, som Lammefjordens avlere høster stor anerkendelse for.
Besøgsmarken ligger på et forpagtet jordstykke ejet og venligst stillet til disposition for projektet af Odsherred Efterskole.
I juli og første uge i august kan du/I få en guidet omvisning og høste smagsprøver på besøgsmarken. I uge 42 er der også særlige arrangementer på Besøgsmarken i forbindelse med Grand Cru-ugen.
Se datoer for arrangementer og køb billet HER
Vil du booke en vært til en guidet omvisning uden for åbningstiderne i højsæsonen – eller aftale besøg med en skoleklasse eller en event for en gruppe, skal du kontakte geoparken på mail: jakob@geoparkodsherred.dk
Kort over oplevelsesrute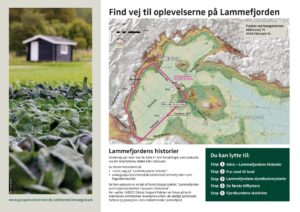 Her på siden kan du også holde øje med vejr, vind og afgrøder på besøgsmarken og hele Lammefjorden via et webcam installeret på vores nye vejrstation. Vi sender nye billeder hver dag fra kl. 06.00 til 21.00: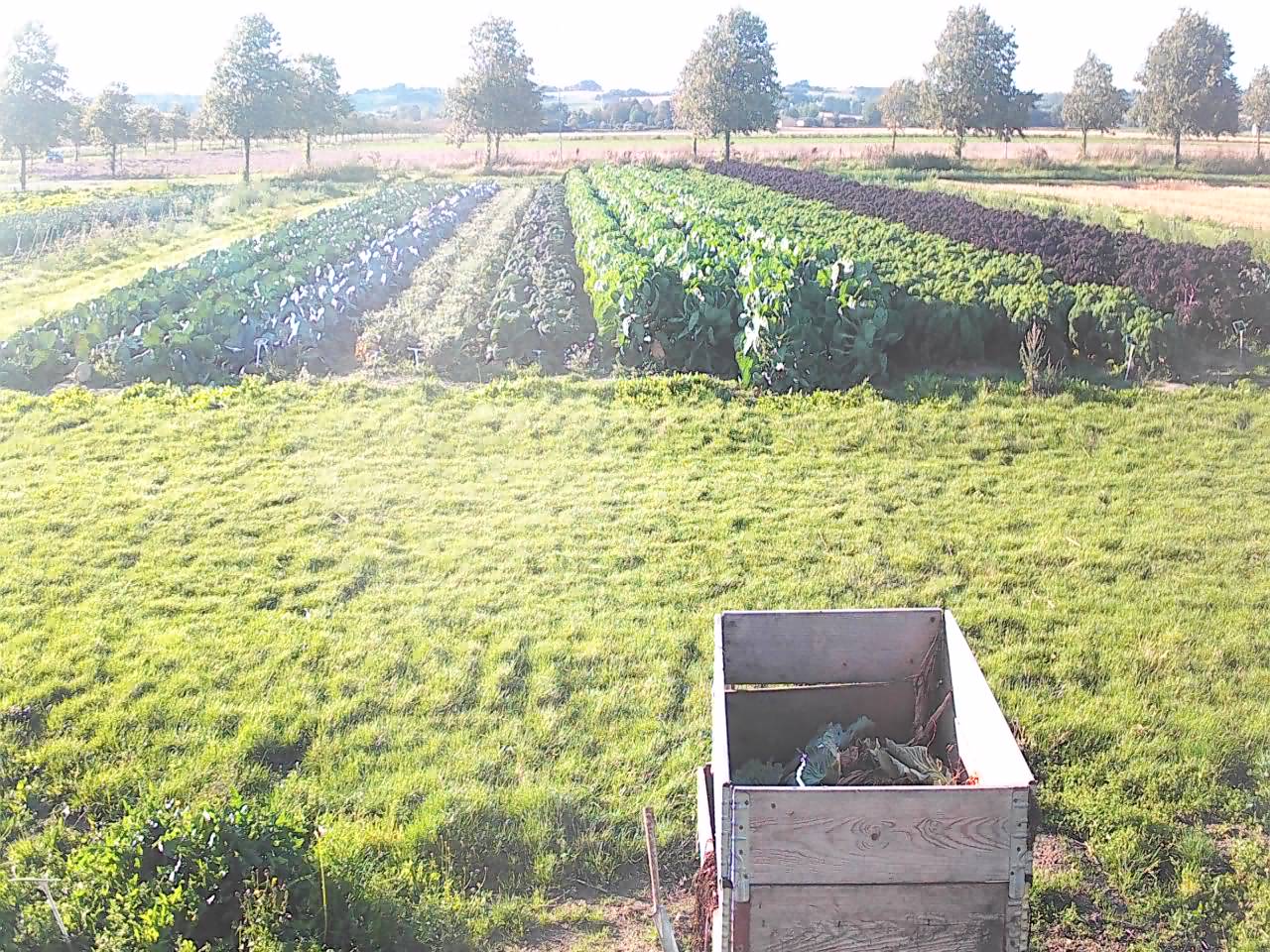 Web-kameraet er en del af en komplet vejrstation, der rapporterer temperaturer, luftfugtighed, vindhastighed og retning, nedbørsmængde m.m. Vejrstationen er installeret i et samarbejde mellem Geopark Odsherred, Odsherred Landboforening, Lammefjordens Grøntsagslaug og AgroPro.
Vejrstationen er offentligt tilgængeligt via Ranch hjemmeside eller som app på telefonen.
Følg link eller søg i app store/google play afhængig af styresystem på telefon.
https://app.ranchsystems.com/rsapp15/jsp/login.jsf
Brugernavn: Lammefjorden
Kode: 1234
Marken er forbundet med en oplevelsesrute på 10 kilometer med fem stop ved bl.a. dyndhul og en skallebanke i Lammefjordens inderste del. Både på mark og rute kan du få historien om livet i området og sammenhængen mellem geologien i den inddæmmede fjord og de særlige jordbundsforhold, der giver optimale betingelser for dyrkning af råvarer. Oplevelsesruten er for både vandrere og cyklister.
Hele året rundt kan du lytte til fem fortællinger som podcasts via din smartphone, tablet eller computer.
Du finder historierne på
iTunes, søg på "Lammefjordens historier"
Lyt til:
Intro – Lammefjordens historier
Fra vand til land
Lammefjordens dyndhulsmysterie
Fjordbundens skatkiste
De første tilflyttere
For at understøtte formidlingen af de særlige forhold på Lammefjorden, har GEUS udført en række geovidenskabelige undersøgelser i den nordvestlige del af Lammefjorden – et område der er karakteristisk ved et tykt og frugtbart dyndlag.
Projektet gennemføres af Fonden Geopark Odsherred i samarbejde med lokale landmænd og agronomer, Lammefjordens Dige- og Pumpelaug, Nordisk Center For Lokale Fødevarer, Odsherred Efterskole, gårdbutikker, spisesteder og Odsherred Kommune.
Projektet er støttet af:
Europæiske Landbrugsfond for Udvikling af Landdistrikterne (ELFUL)
+ Knud Højgaards Fond 
Rapport fra GEUS (Danmarks og Grønlands Geologiske Undersøgelse):
Sponsorliste til Lammefjordsprojektet:
Frø og planter 2018:
SeedCom
J. H. Planter
Søren Wiuff
Slotsgaard
DLF – Seeds & Science
Storøhage
Brogaard
Steffen B Hansen
Lammefjordens Spisekammer
Frø og planter 2017:
SeedCom
J. H. Planter
Søren Wiuff
Slotsgaard
Storøhage
Brogaard
Strandlyst
DLF – Seeds & Science
Sponsorater på anlægsarbejde:
Fårevejle Stationsbys Vandværk
Fårevejle Maskinforretning
Entreprenør Steen Hansen
Læssøe VVS
Erik Slott Andersen
Samarbejdspartnere:
VKST Planteavl deltager i Geopark Odsherreds Besøgsmark med faglig planteavlsrådgivning i forbindelse med planlægning af sædskifte, sygdoms- og skadedyrsbehandling samt forebyggelse og endelig  dyrkningsvejledninger generelt. Derudover er VKST Planteavl garant for, at de gældende regler for dyrkning af afgrøder bliver overholdt – både danske regler og EU regler.
Public visitor's field and exploration trail
A window on the Lammefjord – and a flagship locality in Geopark Odsherred
UNESCO Global Geopark Odsherred has opened a public visitor's field in the Lammefjord in collaboration with local farmers and agronomists. The field is located on the corner of Adelers Allé and Rådhusvej, near the roundabout and adjacent to no. 75 Rådhusvej in Fårevejle Stationsby.
During the summer months, you can see (and, by agreement, taste) the variety of highly acclaimed vegetables grown by market gardeners in the Lammefjord.
The field is part of a 10-km exploration trail comprising five stops, including a mud hole and an oyster bed in the innermost part of the Lammefjord.
Both the field and the trail contain plenty of information about life in the area and the correlation between the geology of the reclaimed fjord and the special soil type which provides optimal conditions for growing vegetables. The exploration trail is suitable for both hikers and cyclists.
The area is a veritable gold mine of interesting stories. On Wednesdays and Thursdays from 1 – 3 p.m. – from July until mid-August – you can explore the field and meet the guide.
If you would like to book a guide out of season or outside opening hours, please contact jakob@geoparkodsherred.dk
All year round, five presentations are available as podcasts and you can listen to them via your smartphone, tablet, or computer (Please note: in Danish only).
You can access the stories here:
(Please note: in Danish only)
iTunes, search words: 'Lammefjordens historier'
List of podcasts:
Intro – Lammefjordens historier (Intro – Stories of the Lammefjord)
Fra vand til land (From Water to Reclaimed Agricultural Land)
Lammefjordens dyndhulsmysterie (Mystery Mud Holes in the Lammefjord
Fjordbundens skatkiste (A Seabed Treasure Trove)
De første tilflyttere (The First Settlers)
To support the presentation of the unique conditions of the Lammefjord, GEUS has completed several geoscientific surveys in the north-eastern area of the Lammefjord – an area characterised by a thick and fertile layer of silt.
The project is implemented by the Geopark Odsherred Foundation in collaboration with local farmers and agronomists, Lammefjordens Dige- og Pumpelaug (the Lammefjord Dike & Pumping Society), Nordisk Center For Lokale Fødevarer (Nordic Centre for Local Foods), Odsherred Efterskole (Odsherred Continuation School), farm shops, restaurants, and Odsherred Municipality.
The project receives financial support from the Local Action Group (LAG) scheme and the foundation Knud Højgaards Fond.
Interim report from the Geological Survey of Denmark and Greenland (GEUS):
BOREHOLE SURVEYS IN THE LAMMEFJORD CENTRAL DEPRESSION
(Please note: in Danish only).